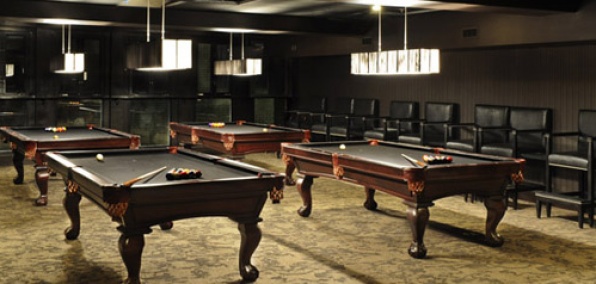 It's been a tough week.
Sox are 0-6. Pia Toscano gets eliminated from
Idol
. Bar Refaeli won't stop Facebook stalking you.
You need something to take your mind off the trials of this world. We're thinking beef-tongue sliders and a game of eight-ball in a refurbished women's clothing store.
Presenting
Scholars,
your new, leathery 5pm destination for reckless oyster-ing and billiards, tentatively opening this Tuesday in Downtown Crossing.
Think of this as your new after-work ace card for bivalves and parlor games, located in a former Talbots department store (yes, there may still be a few desperate housewives milling about... if you're lucky).
When the clock strikes 4:45pm, you'll come in here with a few of your fellow downtown desperadoes,
order some oysters, Rabbit Fritters
and several pints, then head upstairs and go all "Fast Eddie" Felson on the pool tables, while keeping one eye on the Sox.
But this is a versatile former women's clothing store turned restaurant and pool hall. Which means it's also perfect for you and a date to grab dinner and catch some live jazz in the leathery lounge area by the fire. That's where you'll
share a pitcher
of the tequila-y
Grounds for Divorce
(don't read into it). Or maybe even the vodka-sherry bitters and orange essence of
The
Brat Pack
.
If there was a time to flex your Andrew McCarthy knowledge, this would be it.