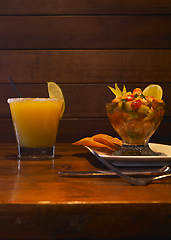 If this heat wave has taught you anything, it's the power of the margarita.
And while things may have cooled off, temperatures will rise again soon—which is why you'll want to start stockpiling frozen drinks...
Welcome
Granizados at Tacolicious
, an upscale take on a spiked slushie in the form of blended margaritas, piña coladas and other less-traditional frozen cocktails, now on the menu.
Resuscitating the old standby, but bringing in top-shelf spirits and farmers' market produce, the guys behind the bar at Tacolicious are whipping up a rotating selection of frozen drinks out of their trusty Bunn-o-Matic Electric 2000 for your cocktailing refreshment.
On any given day, you can swing by the restaurant and look for the "Granizados" section of the menu. One tank will always be the signature margarita, which is essentially a super-concentrated, slightly stronger version of the house margarita. If you like spicy, opt for the
Frozen Pasion
habanero/passion fruit blend—and in upcoming weeks, expect strawberry or white peach and mint versions.
The other tank will rotate, so you could try the
Monchito Colada
, their super-creamy take on the piña colada named after the guy who concocted the original, or the frozen
Cuba Libre
, with Mexican Coke, lime juice and rum.
Of course, if you can't decide, there's also the option of getting flights.
Indecision has its rewards...