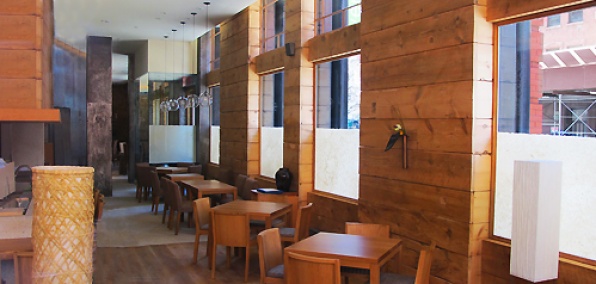 You've always been suspicious of spring.

Starting late. Ending early. Shifty as all get-out. It just seems like it's hiding something.

Like perhaps another 16 seasons.

Introducing Brushstroke, an elaborate Kyoto-style date spot with complex kaiseki tastings for every Japanese growing season—all 20 of them—opening next week.

Imagine a restaurant where all the unnecessary distractions have been eighty-sixed. A minimalist space sans gongs, waving cats and indoor koi ponds that treats its plates like a canvas and its black-truffle-sauced Dungeness crab like a Picasso.

Arriving on the ground floor of David Bouley's newest operation, you'll find a blonde wood sake bar and lounge, a fire-spewing robata grill and a floor-to-ceiling wall made out of 12,000 recycled books (always judge a wall by its cover). Now's the ideal time to fortify with rations of toro sashimi and dashi steamed rice before ascending into the room above.

It's up there in the intimate stone, timber and salvaged-steel confines of a tasting room that you'll discover the fine art of kaiseki: a feast of six to 10 courses that's sort of like Thanksgiving, only it changes 20 times a year and requires a full squadron of Iron Chefs to prepare.

It's about time someone franchised Thanksgiving.