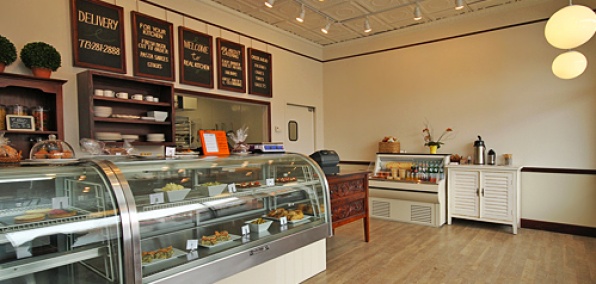 Peanuts. Hot dogs. Beer.

Today, all part of a balanced meal.

But tonight... oh, tonight. You're in the mood for something strange and exotic—that rare bird known as the home-cooked romantic meal. Home openers have that effect on you.

One problem: you've spent your formative years focusing on the romance part of that particular equation.

For any actual cooking, we introduce Real Kitchen, a tiny place on Montrose—not that far from Wrigley, actually—opening today with one noble mission: making you appear to possess the combined cooking talent of four highly trained chefs.

With résumés that include humble joints like Charlie Trotter's, North Pond and El Bulli, these chefs now only worry about making sure you can serve the perfect roast chicken, wild mushroom lasagna with fresh noodles and banana turnover cake at a moment's notice.

Go ahead: take them for a test-drive in the form of a pork belly BLT for lunch. Once you're satisfied, select dinner. Italian beef burgers—a cross between a hamburger and a meatball topped with goat cheese—keep things casual enough with just a nod toward upping the romance factor. (You coy thing, you.) Throw in some roast veggies for sides, hustle home, stick them in the oven for a quick warm-up, then serve.

Don't forget to swing by the take-home butler shop.