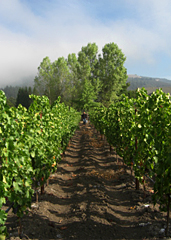 Membership has its privileges.
So does ownership.
So when we heard about a wine club that lets you adopt your own vines, we had to run this across your desk...
Behold
Landmark's Friends of the Vineyard
, an exclusive members-only club giving you all the perks of owning a winery (namely, the wine) without any of the actual manual labor, now accepting new memberships.
In effect, this is your chance to dabble in the life of a wine baron—a life improved by access to wine, your own private label and a cottage on the property, as well as bacchanalian gatherings (ascots optional).
Upon confirming your membership, you'll get to place your personalized plaque on your row of vines. Since the vines are actually descendants of the grenache, syrah, mourvèdre and viognier vines at the Château de Beaucastel estate in Châteauneuf-du-Pape via Tablas Creek, even the French would approve.
As far as the farming and winemaking go, you can be as hands-on as you want. You can leave the vine-growing details to them (after all, the owner of Landmark is the great, great, great grandson of John Deere, of the tractor fame), but once the wine is ready for blending, you might want to pitch in.
All you have to do is agree to order a five-case allocation of the exclusive estate wines—all with your own personalized label.
It should at least hold you over...