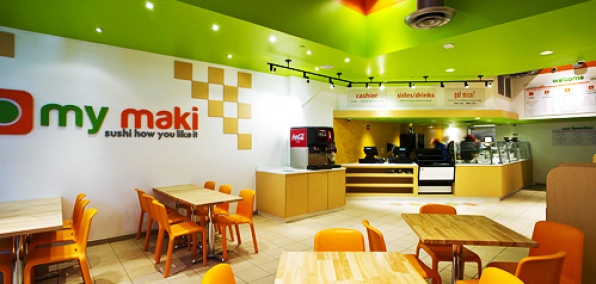 Spicy tuna. Salmon avocado. California roll.

Sushi staples. Predictable.

Perhaps you could do better.

An arsenal of Doritos and radish sprouts should help...

Introducing My Maki, an uninhibited sushi joint where you'll brainstorm, micromanage and give birth to new versions of the hand roll, opening today.

Essentially, this is what happens when you take a menu of traditional (salmon, cucumber) and nontraditional (crawfish tails, potato sticks) ingredients and bring free will into the equation.

Set inside a wide-open space of blonde wood, clean lines and... okay, it looks like a Jamba Juice. You'll move through a five-station, cafeteria-style queue, giving out build orders and pushing the boundaries of Japanese cuisine to their breaking point. In this case, that'll be accomplished through an abstract combination of foodstuffs like panko togarashi bread crumbs, edamame jalapeño sauce and the always-controversial craisin.

And after you've tweaked the California roll to a point where it'd be impossible to identify without dental records, you'll move on to other maki-centric culinary pursuits. Or uncover their secret menu.

Which is sort of like a sushi Pandora's Box.