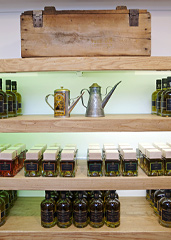 So, we just checked your cupboard.
Bad news: you're out of truffles. (You're also out of rare Estonian brandy, by the way.)
But don't worry—there's no need to call in your drove of sows just yet...
Presenting
Sabatino & Co
, a cozy little shop bringing you all manner of truffles and fungi-related fantasticness, now open on Newbury Street.
The first retail space for the Italian brand (check out the company's
über-romantic video here
), Sabatino is the shop the Sunglass Hut would create if it ever ditched hip eyewear in favor of shelf after shelf of seasonally available truffle-stuffs.
Which means, besides choosing from black and white truffles, you'll want to come in here anytime you have a hankering for some truffle fondue, Sicilian bruschetta with truffles or jars of black truffle sauce (feel free to employ direct spooning).
And because you're always encountering holidays where little gestures of gratitude are required, they've also got plenty of gift-worthy paraphernalia. Think: olive oils infused with porcini, saffron, and black and white truffles. You know: for Mother's Day.
Or Sexy Coworker Day.