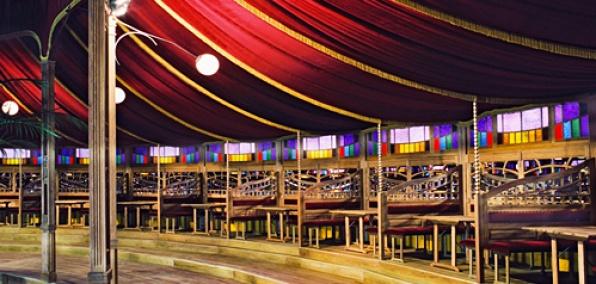 Ladies and gentlemen. Boys and girls. Children of all ages.

This is not the circus for you.

Unless, of course, you're the type who prefers their carnivals filled with gender-bending aerialists and high-flying simulated sex acts.

If so, well, step right this way.

Welcome to Spiegelworld, an adults-only big top of decadence, stripping and bootlegged absinthe that just might be the dirtiest show on earth, tickets available now.

Picture Cirque du Soleil mixed with Rocky Horror and built inside a 30,000-square-foot labyrinth of stained glass, beveled mirrors and hand-sewn tents.

You'll arrive early and spend the pre-show hours exploring the maze-like surroundings. With a little ingenuity (and a working compass), you're likely to uncover a secret absinthe speakeasy, a raucous garden of beer and a few competitive games of Champagne Pong.

The main attraction, which starts at nightfall (and takes place inside a 150-year-old Belgian spiegeltent), is sort of like watching a burlesque show with an extremely high degree of difficulty. On your dinner table.

You see, the stage is only nine feet wide, so expect to sit in the kind of velvet-covered seats where half-naked acrobats dangle above your head, female contortionists' joints pop in your ear and the occasional troupe member may enter the crowd to suck on your toes.

All without the use of a net.