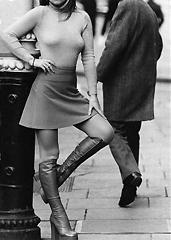 It happens all too often.
You're on the train writing an academic paper on neoclassical interpretations of
Jersey Shore
's first season, when you notice a leggy Polish model who seems to be giving you the eye.
Then, suddenly, the door opens. She's gone, with no way to track her down.
Until now.
Presenting
1 Missed 1
, a missed connections website that works all over the globe and is a lot less skeezy than the one on Craigslist, now available.
So back to that Polish model. After you realize your preoccupation for new ways to describe The Situation made you miss an opportunity for US-Polish relations, you'll get on this site.
You can either search for a post by her if she felt the same thing you did (which she almost certainly did), or you can post where you were, who you're looking for and even what you were wearing ("the immaculately dressed gent across from you in the bow tie," etc.). Or just upload a picture of yourself.
It should be noted that the site isn't extremely robust, but its main goal is straightforward enough: it'll get you in touch with that missed person.
And if you want to tip the scales of fate even further in your favor, you can always offer a reward for reconnecting.
Yes, a weekend with you in Monaco counts.