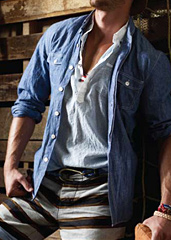 It's the weekend.
Which is fine. No complaints. Actually, a complaint: it's not quite enough time to get to the Maldives and back.
But we've found a patch of the tropics in Hayes Valley that'll work for the time being...
Bringing the shores of the Indian Ocean to our parts (sartorially speaking, at least): the
Burkman Bros. Shop-in-Shop
—an entire pop-up devoted to the breezy collection that conjures a little New England prep on the subcontinent—set up at
Welcome Stranger
now.
Right when you get inside, you'll see that all things nautical—nets, fishing poles, ropes, buoys and ship wheels—take up the entire front third of the store. Then, you'll put it all together and realize that it feels as if you walked into a fishing village halfway around the world. And, like the shop, the madras button-ups, safari jackets and khakis might just inspire you to hop on a plane to a faraway atoll (or at least dress like you did).
Being that it's the most complete assortment of Burkman piled into the only shop-in-shop situation in the city, there'll be some exclusive, limited-production items like reversible belts and a few shirts that no other store can get their hands on.
Plus, the brothers (Ben and Doug, who are Gap designer vets) will be in from New York on Sunday to personally introduce themselves over cups of rum punch.
You can always count on rum.