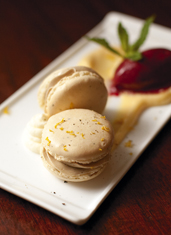 Tonight: March Madness.
Which means: dunks, cheerleaders and last-second shots. And something about buzzer-beaters calls for a specific celebratory food.
We're thinking something between a burger and a whoopie pie. Only French...
Introducing
Foie Gras Macarons
, a special creation that fuses the worlds of French cookie and duck foie gras, now available at Sel de la Terre Long Wharf.
If you were to find an Arabian lamp, rub it and when facing the spectral genie wish, "I want to live in a world where foie gras and cookies no longer exist separately," he'd grant your request with these (and may or may not sound like Robin Williams).
If you're wondering how this happened, it's simple: they start by making an egg white, sugar and black pepper French macaron. Then, they drop foie gras into a food processor with white pepper, and pear and apple brandies. The result: a smooth, creamy, ducky filling that will be squeezed between two of those macarons.
And since you prefer decadence with a touch of slimness, they'll also add some grapefruit curd to the plate to cut the fattiness of the foie gras, some tart cherry and black pepper sorbet, and whipped lemon crème fraîche.
If there were a
Top Chef
episode on reinventing the Oreo, this would win.