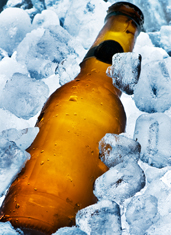 Thank you is dead.
Not the sentiment. The saying.
Old. Overplayed. In need of an image rebranding.
Perhaps with something involving beer and jerky. 
Introducing
Thanks, Bro
(yes, that's really the name), a Manhattan-only emergency delivery service that boils genuine gratitude down to a care package of two options and two options only: salted meat and six-packs, online now.
Let's just come right out and acknowledge this for what it really is: the greatest breakthrough in Hallmarkian Engineering since the comically oversized greeting card. Pick a beer. Pick a jerky. Have your live-in biographer type up a heartfelt note. And once you've finalized the online order form, they'll get to work on delivering your fist bump of an edible arrangement.
Now because there're several degrees of sincerity, you'll have 18 different six-packs and six varieties of gourmet jerky to work with. So as a thank-you to the friend who's building you that custom St. Patrick's Day parade float: go Guinness/peppered beef jerky. And for the accountant who's writing off your significant NCAA bracket pool investments: perhaps a pairing of Sapporo/bison jerky.
But if the message you really want to convey skews more towards the sinister, they've got a package with Natty Ice, Slim Jim and ripped scratch paper available, too.
Keep your friends close. And your enemies fortified with rehydrated beef parts.