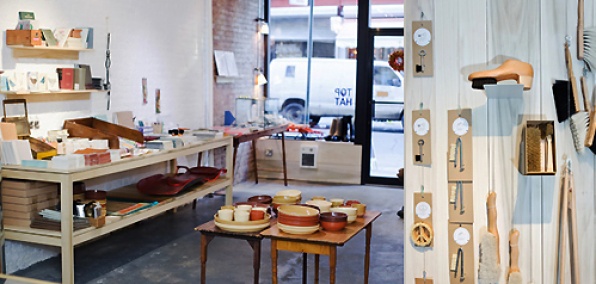 Look around your apartment.

What do you see?

Some ottomans, maybe a Persian rug, a domesticated penguin or two.

But something's missing.

We know: Italian pushpins from the 1930s.

To remedy, we introduce Top Hat, a SoHo import house that's stocking feudal Japanese barware, Scandinavian snowballs and all manner of other globally sourced oddities, opening today.

At last, a shop that's collected the world's most unnecessary necessities in one place. German chalk. Silver scissors. Gold wallets. Stress-relieving snowballs. By-the-hour rentable toboggans. Think off-the-wall lost and found.

You'd probably only find yourself here under a very specific set of conditions. One being an upcoming birthday for an ostentatious Eskimo schoolteacher friend. Two being airport duty-free was out of Asian inflatable balloon lamps.

Once inside this mini white-bricked warehouse, it's imperative that you keep your wits about you while browsing. You see, the curator of this gift shop is constantly wandering the earth, bartering with shamans and raiding the most inhospitable garage sales on the planet. And each time she returns, the store is reloaded with a new batch of miscellanea.

Just when you were getting used to signing your bank checks in German chalk.