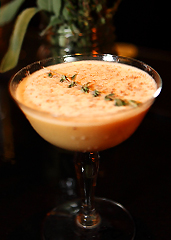 Truffle butter popcorn: a solid snack. Black truffle pizza: sure, why not.
Truffles as a nightcap: now we're getting somewhere.
Behold the
Rum Truffle Flip
, a ridiculously aromatic cocktail and the first to employ the pricey fungus alongside rum and bitters, available now at the Living Room.
You'll begin, naturally enough, at the bar, where you'll order up this off-menu bad boy.
Your drink's journey starts with a jar of Oregon truffles soaking in a bath of Greek honey and crème de cacao. To make the cocktail, the barkeep will combine a 25-year aged rum, sweet vermouth, a dash of chocolate bitters and egg whites. (For frothiness, we're told.)
The potion gets a "dry shake"—meaning, without ice—in a martini shaker and then is released into a chilled martini glass. The drink is topped with slivers of the marinated truffles, along with a few extra droplets (administered via an eyedropper) of the 'shroomy essence.
The result is something akin to breathing in that first intoxicating whiff of truffle mac and cheese, mixed with the nutty notes of the rum and chocolate bitters.
Paving the way for the mac and cheese martini...