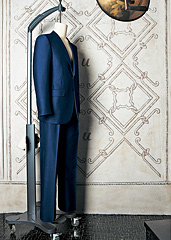 The Last Supper
.
Mona Lisa
. Your next suit.
The common denominator: Leonardo da Vinci.
In case that doesn't clear things up...
Introducing
Uman
, a limited collection of handmade, ready-to-wear suits based on complex mathematical equations dating back to the Renaissance, available at Barneys in Union Square—and only five other stores in the world.
Since these suits are a mathematical exercise with a sartorial twist, the fit is meant to be as precise as if it were custom made. The sizing is based on the body measurements of 4,000 athletic, wealthy European men living in London, Paris and Milan (taken in between polo matches and regattas). Those proportions were then extrapolated onto a virtual body prototype roughly based on da Vinci's Golden Proportion. All of these meticulous equations ultimately led to the creation of your suit.
Because Uman's approach is a radical departure from the sizing guidelines we normally use (which were taken from fitting army uniforms in WWII), the sizes range from a one to an eight.
And while he was at Brioni, founder and tailor Umberto Angeloni had a loyal following of men like Pierce Brosnan. So you can expect to be in the same distinguished company, since he took his best tailors from Brioni to start Uman.
Which means they'll do all the number crunching.