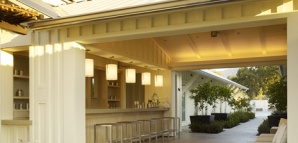 You've always wanted to get a little dirty in your detox.

Which is why we think you'll appreciate the trip to Calistoga for Solage Resort's new Mudslide,a three-part deconstructed mud bath experience that's couple or coed-group-friendly (as all proper mud baths should be).

At the rustic-chic resort with mountain views of the Palisades and Mayacamas, sidle up to the open-air Mud Bar, where the "mudtender" puts together your Mud Cocktail, a mud treatment mixture of volcanic ash, California clay and curative oils—try the Mud Mojito with mint for a nice detox. Armed with your concoction and a real Mojito, you'll move on to the Mud Lounge where, to the backdrop of lively beats, you can paint each other with your mud as the room heats up to 120degrees.

After baking on tiled platforms, you'll move on to mineral baths in footed tubs—with optional curtains if you prefer privacy over communal bathing (though, when in Rome...). Following rinse-off, cocoon yourself in the NASA-inspired SoundChair that vibrates to music and reclines you to "zero-gravity"—though we don't know the exact science behind this new-age La-Z-Boy, it's so relaxing you may forget about that mud orgy you just had. Finally, post-treatment cocktails and dips await in the steamy coed geothermal pool.

Because sometimes the best part about getting dirty is coming out clean.