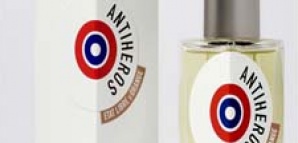 It's no secret that after an hour or so by the perfume counter, everything starts to smell the same. Luckily, there are still a few renegades in the land of olfactory craft.

For instance, take a whiff of Etat Libre d'Orange—sixteen avant-garde scents from the French firm Etat Libre d'Orange.

Boasting a healthy mix of men's and women's—as well as a few that go both ways—Etat Libre takes a more irreverent approach than most perfumers, starting with themes like The Anti-Hero or Virgins and Bullfighters, and incorporating oddball touches like leather and tobacco.

As a result, these aren't the usual dab-on-the-wrist-and-forget-it aromas that you find tucked into magazines. These scents are making statements, literally—like I am a Man (bergamot, bitter orange and myrtle), Praise of a Traitor (pine, laurel and wormwood) and the feminine Don't Get Me Wrong Baby, I Don't Swallow, which she may or may not appreciate getting for her birthday.

More nasally prominent scents include the patchouli-heavy Belly Button and the potentially notorious Magnificent Secretions, which claims to blend the aroma of blood, sweat, sperm and saliva, along with myrrh and bergamot to keep things from smelling too much like a late night in Jersey.

Sadly, Sex Panther is still a few years away.