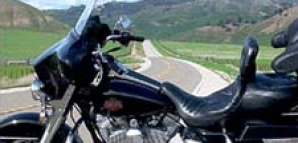 Sunny weekends like this last one make you want to trade in your car for something a little more two-wheeled.

Enter Dubbelju, a motorcycle rental shop in SOMA. Wolfgang, a German transplant going on 20 years, opened the shop in '91 after being forced to ship his motorcycle all the way from Stuttgart when he couldn't find a proper stateside rental shop.

As you would expect from a guy named Wolfgang, every bike he rents is in world-class condition. And another thing's certain: the 40-plus fleet of BMWs, Harleys, Triumphs and Hondas covers the full sport-to-touring spectrum—try a Triumph Scrambler for some Steve McQueen-style tricks or the classic Harley Electra Glide whose cushy seats and backrests make it perfect for long trips.

Passionate about biking and traveling, Wolfgang's staff will guide you to the bike that's right for you and provide gear, routes and whatever else you need. So whether you're looking for a day's ride in Marin, a month-long coast-to-coast sojourn, or have always been itching to take on Route 66, they'll set you up(they also ship bikes anywhere in the States if you just want to go one-way).All you need is a valid motorcycle license and two years' riding experience.

That, and the open road.