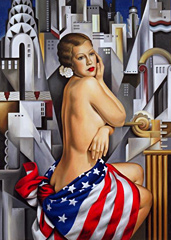 You can feel it. The warm breeze. The sun. The absence of football.
It all means one thing: spring. A time of change. Of renewal. Of saying good-bye to old things—like the Rembrandts above your fireplace—and finding something new.
Like a Picasso for above your fireplace.
Here to help is
Artfinder
, a Pandora-style site serving as your own personal art consultant, online now.
So as of now, you have an online art guy, carefully finding the next masterpiece for your living room/bedroom/Alpine chalet. You'll go to the site and be presented with four paintings, Hot or Not–style. You'll choose a favorite—then repeat the process until it gets a feel for your style. Then it'll dig through the hundreds of thousands of paintings on the site and provide a stream of the ones most suited to your unique tastes. (Turns out, you're most partial to late-period animals-at-cards.)
So when you decide to finally seek out an appropriate Dutch landscape painter for the blank spot between your Vermeer and your Warhol, you'll know exactly who to look for. Then the site will even connect you to a print shop where you can get a stretched-canvas reproduction, if the original's too hard to find.
Though a daring midnight heist isn't out of the question.