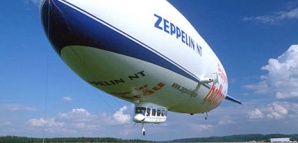 Ever since the Hindenburg went down, the dirigible has gotten sort of a bad rap. (Something about fiery death that puts people off.)

But 70 years later, the Zeppelin has risen from the ashes—and the ridicule—and now the world's largest airship is ready for a (non-flammable) re-launch.

Flying from southern Germany's Friedrichshafen, where Graf von Zeppelin first lifted off at the turn of the century, the Zeppelin NT will take flight over Munich starting April 27. This isn't your standard Goodyear: With an ultra-light, carbon-fiber frame, the airship is agile enough to swoop over cities, and nimble enough to provide the most exhilarating tour of Deutschland this side of the Autobahn.

It's also luxurious: The NT (as in "new technology") is the length of a Boeing 747, but with only 12 occupants in the cabin, there's room to stretch out. Low on noise and lower on emissions, the aerial cruiser glides you over the medieval walls, rolling plains and modern cities of Germany at a prime viewing altitude of 1,000 feet.

Based on pre-launch buzz, there are already plans for similar tours over London and San Francisco.

You could say interest is, uh, ballooning.