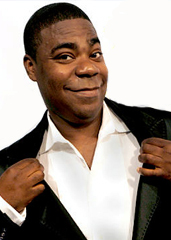 Un-classically trained thespian
Tracy Morgan
hardly needs an introduction. But since he'd probably want us to provide one anyway, here we present a candid discussion with the
30 Rock
star and
SNL
alum. Which includes: his thoughts on the Celtics vs. the Knicks, his favorite Boston meal and whether or not he's Irish.
UD: What would be the best superpower to have?

TM: Invisibility.
UD: Why's that?

TM: Because when you're invisible, man, you won't have to explain nothin' to nobody. You're invisible! You wouldn't have to explain a thing. You could just turn invisible. If I didn't want to be anywhere, I'd just turn invisible. But I know how that is, man. You gotta understand—I'm a black man. So before I became famous, I was invisible.
UD: Do you think it would be impossible to be invisible now, now that you're "Tracy Morgan"?

TM: It's impossible. I wish I could be famous anonymously, but that's not the deal. You can't be famous anonymously. You're either famous or you're anonymous. And I'm famous. That's what it is, man, that's what I set out to be.
UD: Best meal you've ever eaten in Boston?

TM: I had a steak, mashed potatoes with gravy, corn and cornbread.
UD: Where?

TM: My hotel room.
UD: If you had a time machine, what would you use it for?

TM: I don't think I would use it at all, man. I'd probably sell it, or probably get rid of it, you know. 'Cause the past is history, the future's a mystery, and the present is the present. That's why we here, 'cause it's the present.
UD: Very true.

TM: I wouldn't have no use for no time machine. I like what's goin' on, man.
UD: Would you sell it on eBay?

TM: I don't know. I don't even know what eBay is, man. I have an imagination. I'd probably just sell it to someone on the street.
UD: Do you have a favorite drink?

TM: Water.
UD: What would Tracy Jordan's favorite drink be?

TM: Probably a Long Island Iced Tea.
UD: What's your ideal song to seduce a woman?

TM: "Between the Sheets," the Isley Brothers.
UD: Do you have any plans for St. Patrick's Day?

TM: Nope. I'm not Irish, man.
UD: Everyone's Irish on St. Patty's Day.

TM: Why would I celebrate it? I'm not Irish.
UD: We know a lot of Italians who celebrate it.

TM: Yeah, well, I'm not Italian.
UD: Who's your favorite SNL member of all time?

TM: Besides me?
UD: Yes.

TM: Will Ferrell.
UD: Nice. What's your favorite character he played?

TM: I can't just pick one, I loved everything he did. He's fearless. He's my leader.
UD: Finally: Celtics or Knicks?

TM: The Knicks! I'm a New Yorker! Why would I pick the Celtics? Come on, dude, nobody told you that I don't live in Boston and I'm not Irish? Nobody told you that?