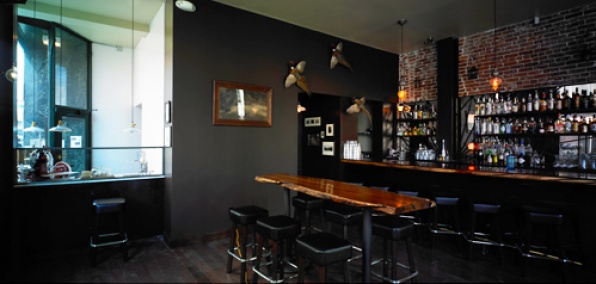 Bars generally do one thing well.

And that one thing is plenty.

But we won't stop anyone if they want to go ahead and accompany drinks with meat by the pound...

Introducing Dogwood, an intimate spirits-driven meat sanctuary specializing in cocktails and charcuterie by the pound, opening this weekend in Uptown.

We think you'll agree that more cocktail dens would do well to augment their bar with a designated meat counter. Especially one slicing up house-cured meats with a hand-cranked, Ferrari-red slicer. Until then, this spot should tide you over.

Just a few blocks from the Paramount and Fox theaters, you'll be in close pre- or post-show proximity to what will come across as a rustic workingman's cocktail den: there's a bar made of a felled, whole black acacia tree, reclaimed Doug-fir floors and a flock of pheasants flying up one wall (if three taxidermied birds constitutes a flock).

Since the sleek, marble-topped deli counter is all the way in the back, it makes sense to start with some cocktails like a classic martini or maybe the citrusy, whiskey-centric Stone's Throw before zeroing in on a few pounds of salami, prosciutto and bacon.

You know, the important food groups.