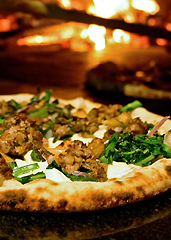 Nobody appreciates wood like you do.
Your massive fireplace is fed on the hour. Your beach bonfires burn the feet of the gods. Your handshake is stronger than oak.
And now it's time to feast on pizzas warmed by fiery stacks of lumber. Without leaving your couch...
Introducing
Pizzeria Posto's Mobile Pizza Oven
, your new way to get wood-fired pizzas made at your place, now taking reservations for next month's rollout.
Here's the setup: if you took a U-Haul moving trailer, removed the boxy top and replaced it with a custom-built, fully functioning brick oven, you'd basically get this (next up: mobile breweries).
So say your next meeting of the minds is happening at your place (during, say, the intellectual gauntlet that is March Madness). You'll call up Pizzeria Posto, look over the
menu of choices
and finally announce your decision: the
Roma Package
, which comes with five styles of
Posto pies
, two salads, meatballs and cannoli. Then, you'll clear a spot out in front of your pad (tapping of keg: optional).
The Posto guys will arrive, set up shop and proceed to cook your pizzas using all-native woods (oak, elm, cherry, maybe some apple) that they've tossed into an actual two-ton brick oven, blazing your pizzas at over 1,000 degrees until they're served sizzling hot.
No, they don't bring their own hot waitresses.