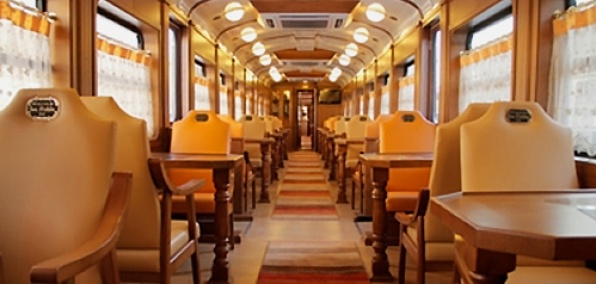 Let's set the scene.

You're in Spain. You're fully sated. You've possibly over-imbibed. At this point, you need one thing.

Someone to pick you up and carry you to the next great meal. Or failing that, a train...

Specifically, El Expreso de la Robla, a wine-soaked train tour through northern Spain, booking now.

It's four days and more than 300 miles of rail travel—from Bilbao to León and back again. Your chariot is modeled on an 1800s-era train that ferried coal (and coal barons) through the mountains—all wood-paneled sleeper cars and blue-suited porters bringing you glasses of cava on the hour. You might start your day with pork trotters in a medieval square, then reboard in time to go to Prieto Picudo and sample the boar stew in some wine caves. (Still your favorite kind of caves.)

And because the train will settle down at a station every night, you'll have all evening to hunt for that perfect sangria off the plaza in San Feliz, or scour the city for the perfect crema catalana. You just have to get back to the train station by morning.

Or risk an extra week of vacation.