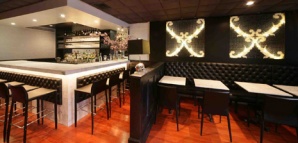 The hunt is on.

Your yearly quest for a sun-touched, booze-friendly, patio/roof/esplanade/dock/sidewalk has begun. Consider this a head start: Elizabeth opens tomorrow in the heart of Nolita with a brand new patio.

Formerly Rialto, Elizabeth is a breezy neighborhood bar that you might find yourself drifting into on a regular basis this summer. The outdoor space in question, dubbed "The Garden," will have a small fountain in the center, its own service bar (this is key) and enough greenery to convince your date you've whisked her a bit farther than Elizabeth Street. Not to mention that it's rain-or-shine thanks to the retractable roof.

The two front rooms—The Salon and The Card Room—will prove useful on more indoor-oriented nights. The Salon, decked with gray marble tables and nickel-plated skull lamps, is a healthy mix of Milan and Bowery. The Card Room, on the other hand, is swathed from floor to ceiling in green felt and topped off with silk house-of-cards chandeliers. (No, there isn't a regular poker game here—as far as you know.)

All the rooms and the patio deliver the same food—small plates like Watermelon Salad with Feta, Olives, and Mache meant to support an aggressive drink list. And the bathroom is stocked with suggestive reading materials like old Playboys and copies of Lolita.

Which might explain the line outside the guys bathroom.