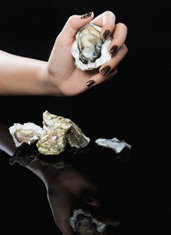 The oyster. A legendary bivalve, known for its aphrodisiac qualities.
And sure, those qualities might not be backed by "science," but... hey, it's Valentine's, so it doesn't hurt to try.
Helping you try:
Bill the Oyster Man
, a devoted oyster and bivalve connoisseur equipped with his own mobile raw bar, on call now and ready to roll up to your place.
Here's what you need to know about Bill: he's been doing this for 20 years. He focuses on larger gatherings but is open to smaller gigs. He shucked a few Kumamotos for Paul Newman back in the day. And as long as you're somewhere between Wine Country and Big Sur, you're in his range. (Why, yes, that does include your champagne and oyster firework tribute to America on your yacht in the Bay.)
Here's how it'll go down: you'll call or email Bill with the date, the locale, the crowd count and any other needs you require—up to and including barbecued oysters. (He'll even double up with a buddy who roasts whole pigs.) You'll want to give him a week's notice, but if you're convincing—and you're convincing—you could persuade him to jump into action with as little as a day's notice.
Tonight might be pushing it...