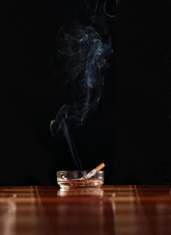 Sometimes we hear about things. Read about things. Catch wind of things. Things that seem... amazing. But also... kind of unbelievable. Hence "Skeptical Investigation," where we take a dubious look at some outlandish claim. Today's entry:
The Mad Russian of Brookline
.

THE CLAIM


If you believe everything you read, over 100,000 people have come to this man to stop smoking. This number includes celebrities like Billy Joel, Courteney Cox and Drew Barrymore, all of whom reportedly quit smoking after just one visit.
THE INVESTIGATION


Upon entering his second-floor headquarters, you'll be met by an amicable older Russian woman who sounds like something out of a '60s Bond film. She'll check you in, and soon you and about nine other people will be led into the office of Yefim Shubentsov (aka the Mad Russian).
You'll take a seat, and then the bald, bespectacled man will speak to you in a heavily accented voice on a variety of topics. Think: Egypt, personal happiness, the American pharmacological industry. Then, he'll give you a preview of his mysterious technique of "biological energy." Then, he'll tell everyone to leave and bring you in one at a time.
He'll tell you to close your eyes, imagine that you are smoking and raise a hand. Then, you'll hear him exert this weird, breath-like noise at your face: "EHUNGHHH!"
You'll open your eyes, he'll smile and shake your hand, and off you'll go to pay $65.
VERDICT

It worked. For a day. But after one night of ample charcuterie, beers and heady conversation, this investigator was back on the horse. Or, in our case, the Camels.