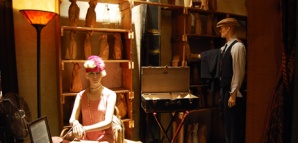 Your bar-going jaunts have been getting dull.

Which means it's time to try something different. Let us suggest the Prohibition Room at the Sir Francis Drake Hotel—a secret room that's concealed on its own private floor in between the lobby and mezzanine.

There's only one way in—by renting a room at the hotel and taking a short ride up in elevator car no. 2 with a secret code and key. Squeeze past the heavy door into the dusty 12x6 ft spot that served as a real '20s speakeasy. Wooden shelves are lined with paper-covered liquor bottles as homage, and a peephole in the floor that served as a lookout for police now lets you spy on the lobby below.

Today, you and a handful of non-claustrophobic friends can kick back in the room and relive old times in the companionship of mannequins of Baby Faced Jake the Rake and Naughty Nan, modeled after actual bootleggers and flappers from the '20s (nothing quite changes up your routine like drinking with life-sized historical dummies). Throw a few LPs on the old record player and immerse yourself in the Prohibition-era spirit with a Ruby Jubilee Cobbler (cognac, port, raspberries, mint) from Bar Drake downstairs.

And toast to Jake and Nan for their efforts.