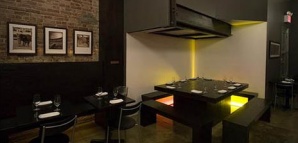 Only in the most dire of circumstances do you find yourself on the corner of 46th and 7th—and by dire we mean times when you're getting to work, getting out of work, being dragged to a musical or been hijacked by a pedicab.

Circumstances grow all the more dire when you're there looking to grab a drink and bite, and facing options like TGI Friday's, Planet Hollywood and Tad's Steak House.

That's why we couldn't wait to get into newly minted midtown wine and tapas bar Tintol. We heard the buzz, scoped the scene, and we agree: In the wasteland that is Times Square, it's an incomparable little oasis.

The spot delivers in a way usually reserved for finds below 14th Street: a great wine selection, an exposed-brick vibe, and an authentic tapas menu with a stellar selection. The Chanfana de Cabrito (braised goat in red wine) is so flavorful you'll wonder where goat's been all your life, the grilled Calamari is among the best we've had in the city, and the Ovos Verdes (fried deviled eggs) are surprisingly satisfying. Also not to be missed is Tintol's Chorizo, which is lit on fire with grappa in front of you, grilling it to a charred and spicy perfection.

Be sure to wash it all down with one of their 150 Portuguese and Spanish wines, or the Poncha, a superb Portuguese spcialty drink that's made from sugar cane brandy.

Hijack situation, elephant stampede, runaway stagecoach, a sudden urge for MTV's TRL...you may need to find some more excuses to "accidentally" end up in Times Square.