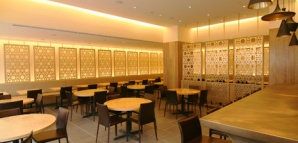 A city this big can do everything well, but the recent Ottoman rush has left us looking for more, even if we need to trek a little to find it. And we're always on the lookout for a good terrace.

We've found both with Savarona, the city's latest take on high-end Turkish cuisine, tucked under the Queensboro bridge.

The bridge view is nice, but we're more interested in the menu, which features universally mouth-watering picks like the lobster-filled Stuffed Artichoke and an as-yet-unnamed appetizer that skewers choice scraps of meat on a spiked metal ball. The bartenders hold up their end with fig and honey flavored cocktails to keep you happy through the long cab ride back to civilization.

The man behind the menu is Tevfik Alparslan, a rising Turkish star whose most recent gig was at the famous Istanbul spot, Reina. He's originally from the Bolu region of Turkey—famous for providing cooks to Turkish sultans—so he's well prepared to turn that kebab into fit-for-royalty.

For the breeze-inclined, Savarona offers half of its seating on the outdoor terrace, where a line of trees separates you from the more industrial bridge views. Inside, you can grab a booth behind a metal lattice for low-key privacy or, for maximum visibility, take over the fourteen-person chef's table by the front window.

Or should we call it the sultan's table.