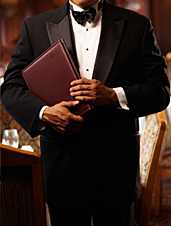 The casual bribe.
A time-honored tradition of the New York dining scene.
And though you seldom rely on it these days (it's more efficient to just stare into a man's soul), you'd want to know about any important advancements in the field.
Like the ability to write the entire thing off to charity.
Introducing
Table Envy
, an online auction house where you'll be virtually slipping twenties to maître d's in an effort to land the most sought-after reservations in Manhattan, launching today.
Think of this as the kind of thing that'd result from an online merger between OpenTable and eBay. But with only in-demand two-tops at 8pm. And zero grilled cheese sandwiches shaped like the Virgin Mary.
As with any typical reservation, you'll start by giving them a little info (name, phone number, eight-character secret password). After that, you'll be free to bid on prime seating at places like ABC Kitchen, Kenmare and Le Cirque, right up till noon on the day of the dinner.
Now, before you come out full guns blazing, it's important to understand that this is a reverse auction. The starting price is the maximum, and you'll be bidding any amount below that. Also, all proceeds go to charity.
Which we're 99% positive is not the founder's name.