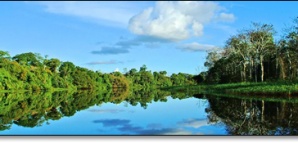 You've been waiting for just the right vessel to take you down the Amazon River.

Now you need look no further. The first luxury expedition boat to cruise the Amazon has just launched: the MV Aqua. The Aqua is a high-end riverboat (think Tom Sawyer meets Diddy's yacht) designed by Peruvian architect Jordi Puig with 12 oversized guest suites and all the right amenities (280-thread-count Peruvian sheets), including four master suites with incredible 180-degree panoramic views of the jungle and blue waters.

As for the trip, the Aqua leaves Iquitos and hits the Peruvian Amazon, taking you to the stunning Pacaya Samiria Reserve, so remote only a handful of world travelers has ever reached it. It's filled with secluded villages, beaches, neon birds and exotic wildlife (from boa constrictors to black jaguars and pink dolphins).

Back on board, enjoy pre-dinner cocktails in the open-air lounge, then take in some nouveau-Peruvian cuisine from one of Lima's hottest chefs, Pedro Miguel Schiaffino. The observation deck is ideal for lounging and drinking—whether under the stars or the sun—and just taking in the river going by.

At this rate, you might just sail right on to the Pacific.