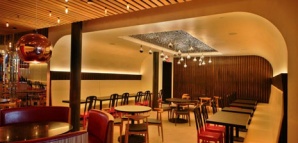 You usually know what you're in for when you venture into Chinatown—change isn't exactly rapid south of Canal.

But starting next week, things are going to get a whole lot more interesting—and innovative—as Red Egg opens up as your new go-to spot for BYO, dim sum and Peruvian cuisine (not a typo).

Opened by a second-generation restaurateur who grew up in his father's Chinese restaurant, Red Egg is a juxtaposition of modern and traditional food and décor. Starting with just lunch next week (your BYO lunch spots had been getting stale anyway) and eventually serving dim sum into the wee hours, the menu is traditional Chinese food with a smattering of Peruvian dishes like mussel ceviche (his mother grew up in Peru's thriving Chinese community).

The room is L-shaped, with three distinct areas—the front bar is perfect for a quick bite, the back room is where you'll feast, and there's a low-lit lounge in the bend of the "L". Walking in, you'll notice some futuristic takes on traditional Chinese design. Instead of 88 lucky Koi, there are 88 lightbulbs hanging from the ceiling in the front bar area. Typical red and black lacquer has been reinterpreted as hot pink walls and grey smokey windows, and there are mirrors everywhere from the back wall to the ceiling in the lounge.

Nothing like a mirrored ceiling to make you feel lucky.