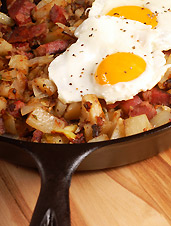 You come to us for stirring tales of the newest opulent dens of vice and decadence in our fine city.
But let's be honest: sometimes all you want is a regular café for some killer breakfast, which can be hard to find in certain hoods. Like Charlestown.
Until now, that is.
Introducing
Grasshopper Cafe,
your brand-new, 42-seat, breakfast and lunch café for from-scratch corned beef hash and Belgian waffles, just opened in Charlestown.
Say you've just woken up with a head filled with foggy memories after a long, enchanted night bellied up to the bar at the Warren Tavern (ah, Tuesdays). And all you can think about is getting back to some semblance of health over some strong Beacon Hill Coffee and maybe some
Angus Beef Steak and Eggs
.
You'll (gently) make your way here and grab a seat in the simple, no-frills, fully gutted interior of the original 1930s brick building. Then, over plates of thick Belgian waffles and fresh corned beef hash (both made from scratch daily), you'll start deciphering those text messages (like the one that said "Nobody will ever forget you trying to play the tuba on Bunker Hill Street at 3am").
Or, if you're truly a mess, go for the
Old Ironside
: two large eggs, two pancakes, thick-cut bacon, sausage and toast, named for its ability to permanently dock patrons somewhere after consuming it.
No, the floor of the café probably won't do.