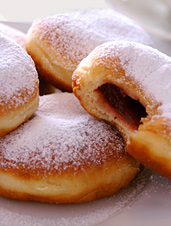 Sunday breakfasts. Overnight stakeouts. Catered boardroom coup d'états.
You've been there.
And you've learned one thing: the coffee/donut relationship is still "strong to very strong."
Well, today we'd like to alert you to a harsh mistress attempting to steal the donut away from the cup of joe: bourbon custard...
Prepare to (over) indulge in
Boozy Donuts
, an off-menu collection of warm donuts injected with some of your favorite cocktails, available now at Flex Mussels.
You always knew that if anyone were going to improve upon the donut, it would be a beachy seafood outpost that specializes in creative takes on mussel dishes. (Yup, sometimes it really is that obvious.)
Typically, you'd go cocktails first, and fried snacks second. But tonight, in the name of efficiency, you'll combine. To start, you'll want to rekindle memories of summer over a couple dozen oysters, a bucket of
Provencal Mussels
and a round of Blue Points.
And when that time comes, and the waiter tries to hand you a menu, wave it off. Instead, give a knowing wink and utter the words "Time to make the donuts." What follows will be airy, rolled in sugar and injected with a spiked curd of
Maker's Mark Caramel
,
Blueberry Daiquiri
,
Absinthe Chocolate
or
Margarita
.
We imagine the Moonshine Bear Claw can't be far behind.