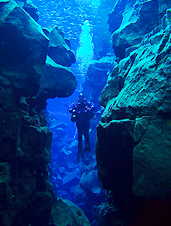 Iceland.
Home to bitter yogurt, extremely emotive singer-songwriters and volcanoes. Angry, angry volcanoes.
And under those volcanoes, clashing continental plates, where an underwater chasm is cutting deep into the core of the Earth...
Fortunately, you brought your flippers.
Welcome to the
Silfra Rift Dive
, a scuba tour through a tectonic rift in Iceland, booking voyages now.
You'll start by trekking to the windswept Silfra National Park in southern Iceland, suiting up with a dry suit and scuba tanks from your native guide. Once you're ready, you'll dive into a gaping 60-foot crevasse filled with crystal-clear glacier water... and you'll keep diving. When you finally reach the bottom, the current will carry you to the main event: a central canyon the length of two football fields. But a little colder and a lot more underwater.
On your left side: the Eurasian tectonic plate. On your right: the American plate. In between: a few schools of fish and a few tons of rock, jumbled up by periodic earthquakes and the steady shift of the plates, which pulls the walls a little farther apart each year. The result is a maze of tunnels and crannies for you and a half-dozen fellow divers to explore—all of it in a slightly different place each time.
But the most dangerous thing is still the yogurt.