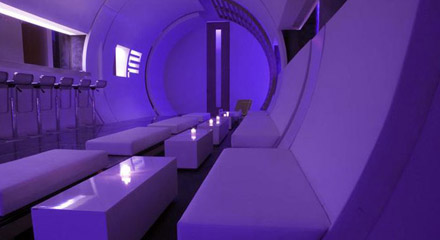 Few places are as overlooked as the small, dark strip of 32nd between 5th and 6th.  Known as "K-Town," the seamy strip is filled with a jumble of non-descript restaurants, late night massage parlors and the mouthwatering smell of sizzling Korean BBQ.

While that is usually a winning combination in and of itself, we noted on a recent trip a new yellow sign about halfway down the block, marked Maru.

We followed it into a dusty commercial lobby and a ratty elevator up to the third floor, and came upon one of the more unexpected scenes we've found in the city. As the elevator doors slide open, you find yourself in an extraordinary bi-level restaurant/lounge pulsing with energy and filled with an attractive Asian crowd feasting on a yakitori-style menu, like tasty Flambeed Scallops and Deep Fried Oysters, washed down with great cocktails like the (oddly enough) Italian Job. Designer Matthew Kelly's futuristic tunnels, translucent white fabric curtains, glass floors and a two-story waterfall create a scene so un-West-32nd-Street you'll forget you're in Manhattan.

Complete the night with (what else but) karaoke on the fourth floor where white leather couches and plasma TVs fill a handful of chic and mercifully soundproofed private karaoke rooms. Add special room menu options like the Scotch Room Combo (which includes a choice of Johnnie, Chivas or Ballentines, a bucket of Coors...and a fruit plate) and Maru will soon be known as the city's Marquee of karaoke.

That, and the city's best hidden slice of Seoul.