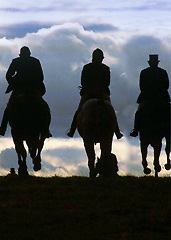 Ah, the British foxhunt.
The pedigreed steeds. The mob of baying hounds. The humans fleeing in the distance...
Allow us to explain that last part.
Welcome to the
Coakham Bloodhound Hunt
, your best (legal) opportunity to lead a team of riders and a pack of dogs after a decidedly human target, taking reservations now.
Imagine a classic British foxhunt—but instead of chasing down foxes, you'll be pursuing cross-country runners. Oh, and there's a strict catch-and-release policy on the prey.
Your starting point: a quaint farm in southeastern England. Just before noon, you'll meet your horse and bloodhounds, and get familiar with the terrain over a Whiskey Mac or two. Your quarry is a group of runners with a 45-minute head start. After the allotted time, you'll put the hounds on the scent, and the chase will be on—across rivers, over hedges, through forests—until you've tracked down your target and taken a triumphal polaroid for your trophy wall back home.
Which is all well and good. But sometimes, you yearn for something more primal—and that's why you can also sign on to be the target. (They won't even charge you for the privilege.) Turns out, the dogs aren't the bloodthirsty type, so when you're finally caught, the worst they'll do is lick your face.
Though we hear their breath is deadly.