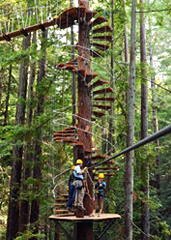 The rain.
The arctic winds.
The weak per capita fireplace figures.
You've paid your dues.
So now that the weather's looking up, we thought you should too...
Welcome
Sonoma Canopy Tours
, Sonoma's first collection of ziplines, sky bridges and rappelling ropes, accepting reservations now.
Sort of like the modern-day, evergreen version of Tarzan, you'll be jetting down hundreds of feet of steel cables through old-growth redwood forests at skyscraper heights. Basically, it's the ideal getaway for when you're looking to add a few hours of solid, unadulterated adrenaline to a nice little Saturday.
Once you arrive at this canyon, 20 miles from the ocean, your first zip will be an easy 80-foot ride from sea level to the first treetop platform. From there, you'll ride six longer lines, like the Sizzler—named for being the fastest ride, clocking in speeds north of 30 mph over 400 feet. All of this is prelude to the beast of the lines, measuring in at close to 1,000 feet long, and the final run flying over a creek that feeds into the Russian River.
After seven flights from platform to platform, you'll climb the spiral staircase to two suspended sky bridges that lead you to the ropes... where you'll rappel 80 feet down to the forest floor.
Which leads to happy hour...