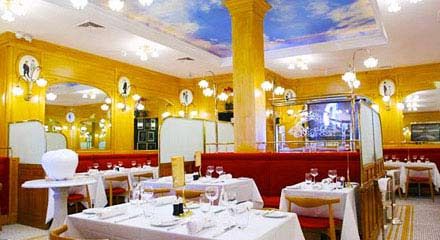 History has a funny way of repeating itself.

When one titan—in this case, the classic midtown power spot La Côte Basque—falls, another fills the void. Bistro Benoit, Alain Ducasse's stateside outpost of his Parisian mainstay, opens Monday as your next go-to wine-and-sometimes-dine haunt.

Benoit is where you'll go if you're looking for an energetic—borderline frenetic—Parisian bistro filled with Frenchantiques, French comfort food and midtown powerbrokers (think Balthazar North).And like at the Soho bistro, the impressive bar at Benoit is a good place to start. There are champagne cocktails on the menu, hard boiled eggs sitting on the bar and black-and-white wallpaper that—along with the copper bar left over from LCB—lends a masculine feel to the room (your bellini, less so).

Once tippled, situate your party atone of the red booths lining the tiled dining room and take comfort knowing that any of the classic dishes (Duck à L'Orange, Escargots),some with recipes over 100 years old, are in the hands of a French master (like you, but, you know, French, and a master).

If the scene isn't your scene, or you require a bit of privacy to seal the deal, request one of three "salons" upstairs, or the ten seat Officine room, decorated with the transported interior of a 19th century French apothecary.

Naturally, you'll appreciate its historical value.