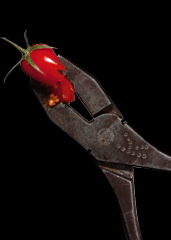 Warning: this may require tweezers. 
And a tuba.
Or at least the ability to eat pork with one while the other plays in your ear.
Introducing
What Happens When
, an elegantly demented SoHo pop-up restaurant that will have a new theme every month for the next nine months and then disappear into the ether, taking reservations now.
Here's what you can be assured of: you'll enter into a black room. The floor will look like a giant blueprint. And the tables will be totally bare. From here, things start to get a little Mad Hatter on you.
Inside your table will be a drawer. Inside that drawer is everything you'll need for the night's feast—and nothing more. Occasionally, that may include tweezers. Or an acetylene torch.
Of course, this all hinges on what day it is. Because at the start of each month, the whole place will do a complete 180—new menu, new theme, increasingly strange ambient music. And when things have reached their demented apex (in about nine months), they'll bulldoze it to the ground.
The planned menus: top secret. And we can't spill. But we can say this: if you grew up eating cold-weather Nordic fusion from Dovetail's Michelin-starred chef while listening to the sounds of a live marching band, you might get bored.
And in that case, we sincerely apologize.