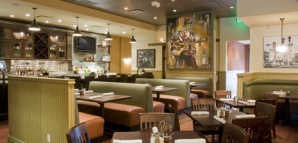 After another rarefied day at the top, sometimes you just want to get your hands a little dirty.

Tomorrow night brings the new, much improved incarnation of Gus's Barbecue, originally opened in 1946, to address your primal need for meat without utensils.

The neon pig is still out front, but just about everything else has been completely redone and/or upgraded by the new owners—because primal urges should be indulged in respectable surroundings. Still, you'll see Gus himself honored in the black-and-white photos now lining the small front room, dominated by a sit-down counter, and the larger back room, with a large bar area heavy on corrugated tin. Start with a Mint Julep before settling into a booth and rolling up your sleeves for slow-roasted ribs, Guinness-Braised Texas Brisket or Surf and Turf Pot Pie. (The New England Ale Chowder is available every Friday.)

But if your rack of ribs requires an air of exclusivity, round up 20 or so meat-eaters and head straight for the brick-lined private room at the back.

To better keep out the deviants who insist on using silverware.