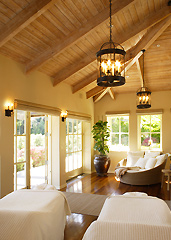 We know this much:
1) She likes chocolate.
2) You like hot tubs.
3) Valentine's Day is officially one month off.
We think we can help...
Introducing Auberge du Soleil's
Triple Chocolate Experience
, a spa treatment masterfully weaving chocolate, massages and soaking tubs into two hours of double happiness that suddenly takes the edge off Valentine's—taking reservations now for the entire month of February.
Now, if you're envisioning them melting hundreds of milk chocolate bars and pouring that hot, sticky mess into a soaking tub for two, this is not that. Actually, no bars were massacred for this bath—just a healthy mix of dark cocoa and the spa's own proprietary milk bath blend (which means you're on your own if you two attempt this at home).
But we're getting ahead of ourselves, because it all starts with you and your date enjoying free-flowing champagne in a suite before a scrub of cacao nibs and coconut milk (nothing exfoliates like cacao nibs). Once you're properly primed, you'll walk outside to the private garden for a leisurely hot cocoa soak before being finished off with a full-body massage using a chocolate-infused essential oil.
And while everything is technically edible (aside from the fact that there's no sugar in anything), you'll probably prefer the specially made chocolate desserts and red wine that'll be on hand.
Which happens to pair nicely with your skin.