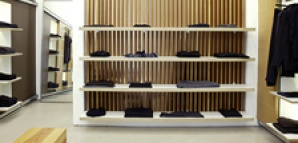 The weekend was officially a scorcher.

And after that session of blazing April sun, it's clearly time to break out some new summer threads. So we've got an idea for you, and it comes in the form of a new secret store Downtown—step in and cool off at Fremont.

They may have forgotten to put a sign out front (or any attention-grabbing features at all, for that matter), but we can't fault them for focusing instead on creating some of the best looking lightweight gear we've seen around. Long a local favorite, their first LA store(worth the trek downtown) kicks the doors open with a collection of light denim, pima cotton shirts and gingham button-downs—cut loose, but flattering, and using lightweight fabrics that make sense when the mercury approaches the triple-digit mark.

The looks veer from the accessible (slim-cut pants, collared short-sleeves for the backyard or the bar) to the out-there (you'll see), but a few well-selected pieces will help you pull off an admirable—and heat-friendly—look.

So don't sweat it.