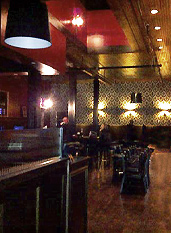 You don't need us to tell you it's been cold out there.
And gray... and wet...
London-esque.
Let's go with that...
Introducing
The Brixton
, the latest London-styled cocktail bistro that'll welcome you all day and into the late night for all your eating and drinking needs, as soon as this Friday on Union.
Since it's named after the Brixton Academy, one of London's leading rock venues (that played host to the Police and Eric Clapton, as well as Wham and Culture Club), you can expect to be surrounded by a solid amount of rock 'n' roll paraphernalia—including a massive collection of framed rock posters lining the wall, all the way up to the high tin-stamped ceiling.
As any good Londoner would, you'll want to start with a few beers poured from the taps lining the massive U-shaped bar. Or at least warm up with some Guinness, then move to the stiffer stuff like a good martini. If you choose to take over one of the booths in back—like the corner spot—you can order up not-so-British fare like the signature French onion dip served in its own Dutch oven, flatbread pizzas and burgers until 1am.
Winter could be worse.