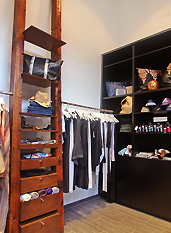 Suits are great.
They come in handy at gallery openings, business meetings and the occasional regatta trophy presentation.
But most of the time, you require a more fluid wardrobe. By which we mean: T-shirt pants. And other, similarly laid-back pieces.
Say hello to
Therapy
, a new temple of casualwear ready to clothe you in fitted hoodies, straw fedoras and, yes, pants made of T-shirt material, now open at the W South Beach.
As you stroll in, don't be surprised if the place reminds you a little of Javier Bardem's Balinese closet in
Eat Pray Love
(great movie). Think: super-thin tees from West Coast label Mihndi, lightweight drawstring pants made from the same T-shirt material and straw fedoras from British brand Christys'. In short, it's the kind of stuff you'll throw in the back of the convertible for a weekend getaway in the Keys.
And if you need to look a bit more tailored for an important dinner at Mr. Chow or the like, you'll also find a few dressier items, like button-downs from local shirtmaker Atelier, sweaters from John Varvatos and jeans from Paige Premium Denim, a brand designed by a former Guess model.
You're probably familiar with her work.