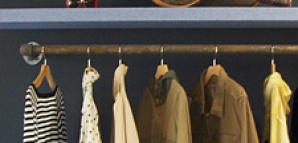 Eventually, every street draws a new resident that gets the neighbors talking.
On Third Street, haven of leisurely Sunday brunch and A.O.C. happy hours, that new resident is the unusual shop called
Known
.
As soon as you're about to pass by, you'll suddenly and curiously find yourself clutching a rifle—the handle on the glass door is an actual-size replica of a Winchester repeater. And inside is the amiable proprietor who goes by the impressive name of...Moonshine. (We tend to agree that in this case a surname would be superfluous.) He's the ambassador for the barren blue and gray store, and he'll point you toward nicely broken-in jeans from PRPS and Goldspun, shirts from NoMas, and soon, merchandise from NYC's
Oak
.
The stock may seem slim, and it is, but Moonshine has big plans for the immediate future that involve eclectic (to put it mildly) options for your home, not just your closet. In addition to more found vintage goods like the mid-century Gucci luggage and Louis Vuitton tennis-racket cover near the front, he's soliciting the clothing designers stocked within to create one-of-a-kind pieces...like a dinnerware set from streetwear label Mighty Healthy, to place upon your table and chairs created by fellow street wear-ians The Hundreds.
Maybe you can convince him to get going on a pair of streetwear martini glasses.