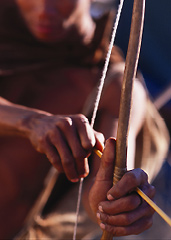 You're well-acquainted with the thrill of the hunt.
But lately, it just seems too easy. The helicopters, the rifle scopes, the shark-shaped personal submarines—it all just makes you yearn to get back to your hunter-gatherer roots. It's time to get back to basics.
And that may involve a bow made out of sticks.
Introducing the
Zu/'hoasi Initiation Hunt
, an eight-day stint as a Kalahari tribesman culminating in an all-day hunting party, taking reservations now.
There's an antelope out there with your name on it—and it's time to collect. Just make your way to a dusty camp in the Western Kalahari, home to the Zu/'hoasi tribe, where you'll be pitching your tent for the next eight days. They'll show you how to make that bow, then teach you the skills you need to follow along in the hunt—like how to sneak up on a wildebeest without giving the game away.
The next morning, you'll head out with the tribe to bag that antelope and bring back enough food to get your tribe through the month. If you're the first to land an arrow, you'll get a hero's welcome back at camp, including a tribal tattoo. (And no, it doesn't wash off.) Then, the women will sing, the village shaman will go into a trance (that's kind of his thing), and everyone will circle up for a traditional Zu/'hoasi dance party.
It's the Kalahari equivalent of
Footloose
.