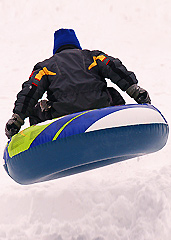 The world is generally divided into two types of people: skiers and snowboarders.
But we've found something that transcends both worlds...
Allow us to suggest
Snow Tubing
at Northstar
, the Switzerland of snowy mountainside activities, now at your service mid-mountain just off the gondola.
After a full day of bowls and diamonds, you'll want to ditch your gear and go low-tech. For that, you'll make your way over to the yurt at the Tubing Center, where you can rent your gigantic donut-shaped tube. From there, it'll only take a few runs down the mountain to unwind—think of it as a river-rafting and sledding hybrid.
Of course, part of the beauty is that no equipment is required—they'll provide it all (essentially the big inner-tube you're already familiar with). Once you're at the top of the hill, you'll run the 200-yard course, hitting a few whoops (that's snow-tubing lingo for moguls) and catching some air before spinning into a series of tight 360s off the rolling berms—all culminating in you sliding into the swooping J-shaped end zone.
The sessions can last all day, but they generally run by the hour. And thanks to the tow lift, you can fit in a handful of runs before heading in for your true après-ski.
You wouldn't want to keep the hot tub waiting.