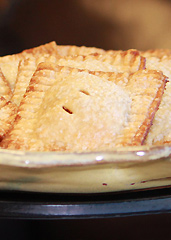 So yesterday we reported that you had two main resolutions for the new year: dating and skiing.
Well, we jumped the gun.
We looked into the issue a bit further, and it turns out you have a third major objective for 2011. It involves Pop-Tarts.
Specifically, it involves 
Red Queen Tarts
, your new supersized homemade breakfast tarts from the state of Georgia, now being delivered to your door.
Basically, if you crossed a regular garden-variety Kellogg's Pop-Tart with a pastry from Flour Bakery, you'd get these. They're about the same size as a Pop-Tart, but they're puffier and flakier. And instead of Choc-o-Lantern, Frosted Strawberry and Mega Ice Cream Sandwich Blastoff Power Zoom, you get more dignified flavors like
Cinnamon Apple Tatin
,
Lemon Blueberry
,
Roasted Pumpkin
and
Hazelnut Chocolate
.
And when you're rushing out the door with one of these in your hand, hot and fresh from the toaster oven, we think you'll also appreciate that the maker, a woman by the name of Candice Reynolds, uses all-organic ingredients like chunks of real fruit, cane juice instead of sugar and chocolate from Georgia's Fairywood Thicket Farm.
Generally regarded as the Pepperidge Farm of the Deep South.